This is a meal to be shared by two people, heavy on the greens, lighter on the wallet than would be otherwise. Last night we were both exhausted and wanted to eat at home (mostly for economical reasons) but I really wanted a great Friday night date dinner, so we grabbed a filet from Andronico's (love/hate) as well as a bottle of Tablas Creek's (Sister winery to France's Château de Beaucastel) Cote de Tablas red rhone style and went to work at home..
1 filet mignon ~ .5 lb
1 large shallot
1/2 comice pear (or other pear)
1-2 T very cold butter
1/2 C ruby port or dry red wine – sherry would probably be OK too
1 bunch golden chard
1 slice pancetta, 1/4 inch thick
olive oil, salt, pepper
Preheat oven to 350. Wash chard, cut stems away, slice stems into small peices and set aside, slice greens into large strips, set aside seperately. Dice the pancetta by unwinding it, and slicing it in half lengthwise, then cutting into bits on the short end. Place the pancetta & the chard stems into a hot nonstick skillet, adding salt & pepper.
Bring a small, high sided pan (oven safe) to just high heat, adding a few T of olive oil. Add the salt & peppered steak, allowing to color. Once colored, flip over. Once colored again, put the pan in the oven until desired doneness (4-8 minutes). Do not allow the olive oil to smoke while on the range.
Tossing the chard mixture frequently, once stems are nearly softened, add the pear in cubes. When the pear has colored, add the greens and cook until wilted and bright. Check seasoning and adjust.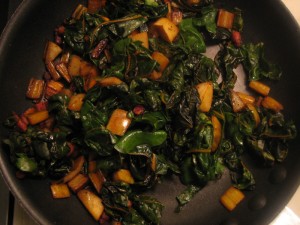 Take your steak out of the oven and place it on a cutting board to rest, placing the pan with drippings back onto the range at high heat. Add your shallot, minced, and cook until translucent. Add salt & pepper, and the port/wine. Reduce until astringent alcohol smell is gone, take off the heat and sit 1 minute. Add very cold butter and stir vigorously until melted.
Slice steak and serve sauce over it with the greens on the side.