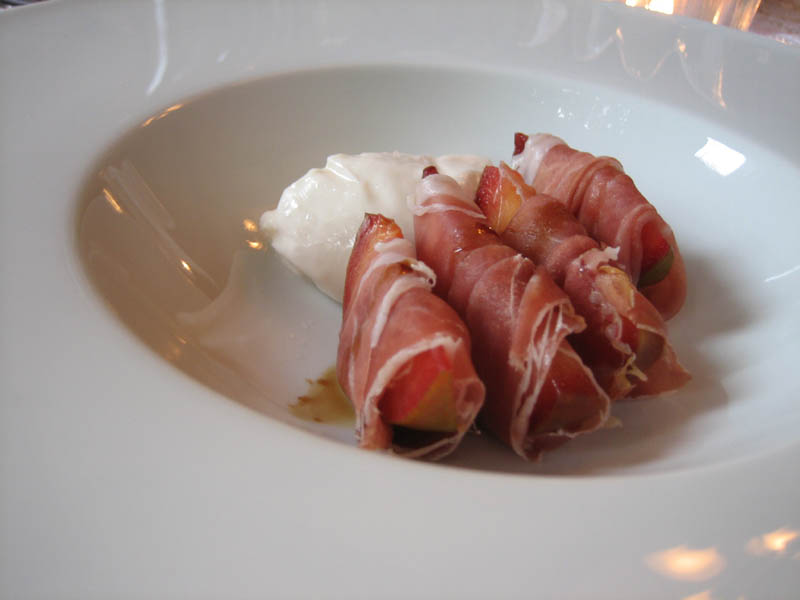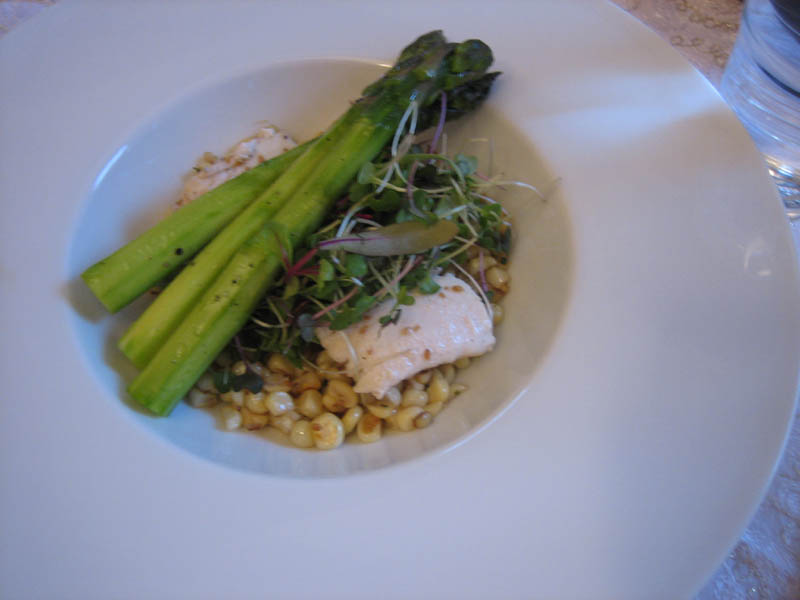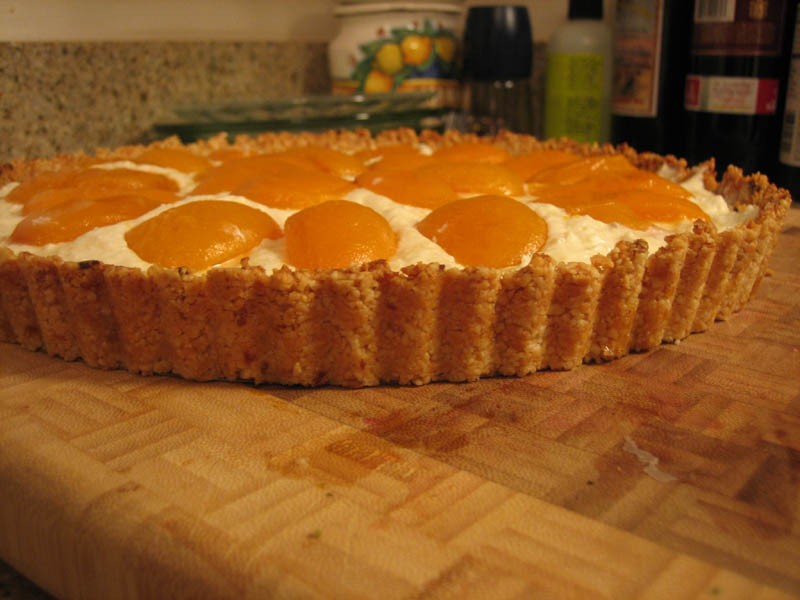 Prosciutto wrapped Pluot
Simple–great fruit, slices of it, wrapped in very thin prosciutto, paired with a soft cheese like burrata in this case, or seasoned ricotta (season with olive oil or flavored olive oil, salt, pepper), drizzled with aged balsamic vinegar.
Halibut on Truffled Corn
I've made this as an appetizer as well, and substituted asparagus shavings steamed lightly for the asparagus itself, and served smaller pieces of fish.
For 4
1.3 lb halibut fillet, skinned
3-4 ears fresh corn
1 pack rainbow microgreens
12 asparagus spears (or 5 if you are shaving them)
fresh thyme
truffle oil
hazelnut or walnut oil; if unavailable substitute mild, high heat oil – a few T
toasted sesame oil – 1 tsp
gomashi – ground salt and toasted sesame seeds
salt & pepper
You'll need two skillets.
Lightly peel the asparagus and place on parchment paper. Dress lightly with olive oil or flavored olive oil (lemon, clementine, etc; alternatively add lemon or other citrus zest). Wrap peeled asparagus in parchment paper to enclose, and place in oven at 350.
Heat 1-2 T nut oil and toasted sesame oil in nonstick skillet or skillet with good sides for flipping at medium high heat. When hot, add corn. When corn begins to color, reduce heat to medium and add thyme. Continue flipping or stirring every 30 seconds to 1 min.
Meanwhile, heat a few T of oil in a pan for the halibut at medium high/high heat. Use enough to easily coat the bottom of the pan. Dress halibut fillets in gomashi and a dash of fresh ground pepper. Top side down into the pan first when oil is hot. When 2/3rds cooked, flip.
When corn is finished cooking, turn off heat and add 1-2 tsp truffle oil, mix. Season with salt and pepper.
Remove asparagus from oven. Total cooking time for most asparagus will be about 15-20 minutes, but check it as ovens vary.
Assemble as pictured on top of the corn; corn, halibut, microgreens, asparagus.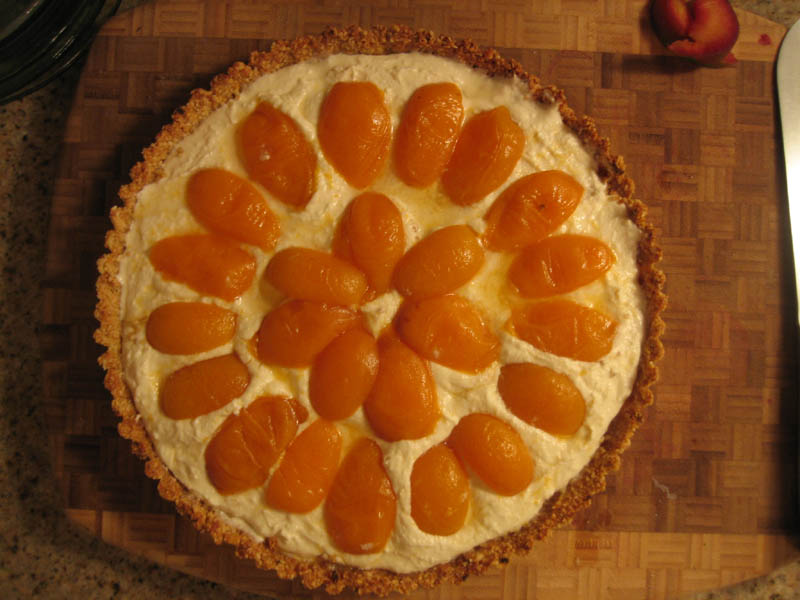 Apricot Ricotta Tart
3-4 cups nuts of any combination or variety: blanched/blanched slivered almonds, raw cashews, macadamias
5 dried apricots
2 T melted butter
6 fresh apricots
1/2 cup granulated sugar
1/2 cup water
1 cup mascarpone cheese
8 oz ricotta cheese (preferably sheep's milk)
orange blossom water
honey
benedictine or other brandy/liquor
For the Crust: Chop finely the dried apricots. In a food processor, blend nuts and dried apricots until fine meal is formed. Add 2 T honey, 2 T melted butter and blend until sticky ball is formed. If too sticky, add more nuts. Should be able to hold together.
In a 9 1/2 inch tart pan, press out the crust evenly and then place in freezer or refrigerator to set for at least 30 minutes.
For the Filling: Mix the ricotta, marscapone, 1-2 tsp orange blossom water, 2T honey and 2-3T benedictine/brandy for the filling. Chill.
For the Topping: Wash and quarter the apricots. Start a simple syrup of 1/2 C sugar and 1/2 C water in a large sautee pan. When made, add the apricot quarters and reduce heat to simmer, turning occasionally until fruit plumps but does not fall apart. Remove pieces onto a cool platter as they finish cooking. After fruit is removed, gently raise heat to create apricot caramel.
Bake the tart crust at 350 for 15 minutes until coloring golden. Remove and let cool thoroughly or pop into freezer/oven to bring it down.
Fill with ricotta mixture, top decoratively with apricot slices. If you want the topping to be glossy, melt some red currant jelly in a pan and brush on top. It will dry clear as pastries from a bakery.